Save $50 on Glen Allen's Best Pest Control
What kind of problem are you having? Select all that apply.
Pest Control in Glen Allen
As joyful as owning a home can be, unwanted pests are eventually going to get indoors. And when they do, you'll want to make sure that you have the best pest control in Richmond Virginia, and greater areas on your side. Since 1975, it's been our goal to provide outstanding pest services to keep your home pest-free. 
Comprehensive Long-Lasting Protection
No one ever feels safe when they have pests making themselves at home. Whether you have ants roaming around in your kitchen, spiders crawling on your walls, or stinging insects taking over your yard, we are here to protect you and your loved ones. We are proud to offer the best pest control in Glen Allen here at RichPro Pest Management. Our pest control offers protection from: 
Ants

Centipedes and Millipedes

Earwigs

Fleas

Silverfish

Stinging Insects

Spiders

And more!
Image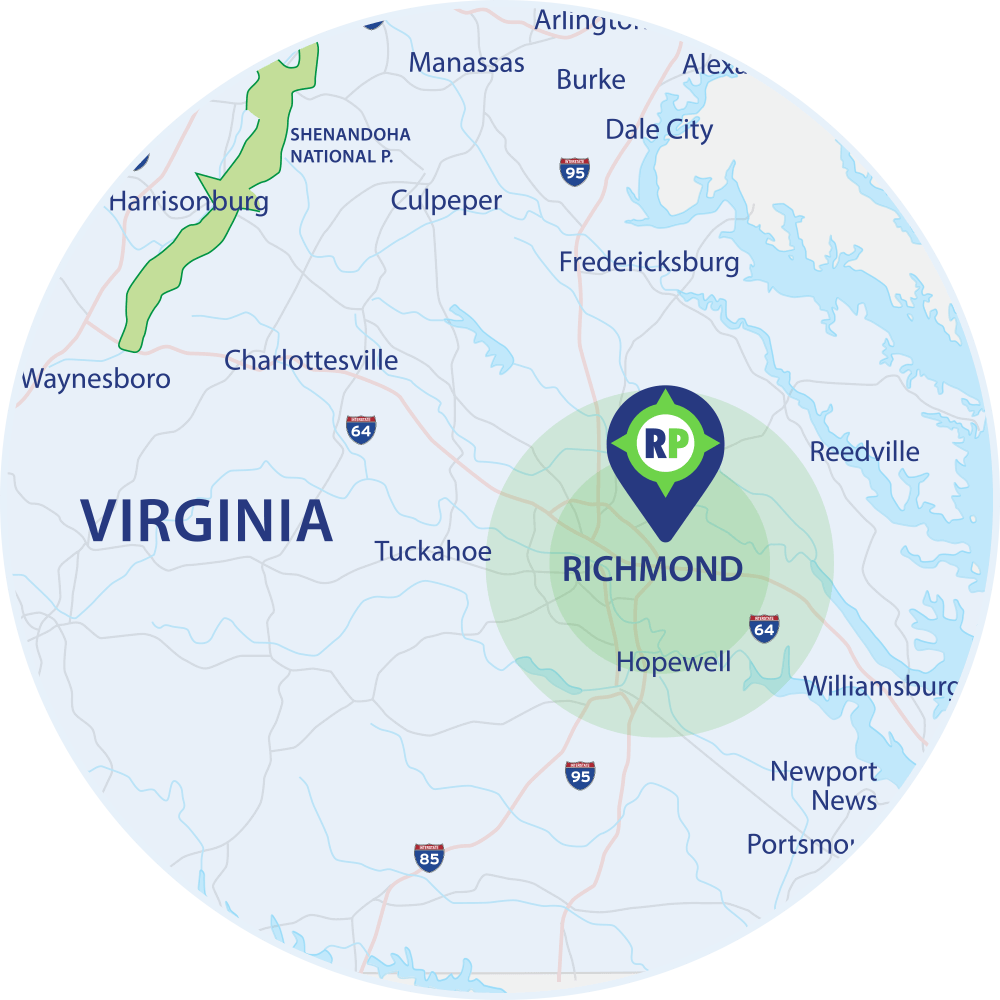 Most Trusted Exterminators in Glen Allen
Any pest control company is only as good as the exterminators that it employs and at RichPro Pest Management, we're proud to have hired the very best! When you choose us for your pest control in Glen Allen, you can feel confident that our team will do the job right. From extensive and ongoing training to industry-leading safety and customer service education, we strive to provide you with the best experience possible and give you back the pest-free home that you deserve.
When you partner with our experts, you can expect
A complete home inspection from a local exterminator. 

Personalized plans that we design around your unique needs. 

A multi-step treatment approach to ensure total removal. 

Follow-up inspections within 30 days.

And so much more!
Save $50 When You Refer A Friend!
Get our Same-Day Service for Quick Relief 
Last we checked, the idea of waiting around for days on end in a house full of bugs wasn't popular. Instead of waiting for help to arrive, why not get relief from pests today? At RichPro Pest Management, you can accomplish precisely that with our available same-day service! Just give us a call before noon M-F and our team of customer service professionals will send an exterminator in Glen Allen your way. 
Termite Treatment in Glen Allen
If you want to keep your home safe, standing, and in good shape well into the future, even a small termite infestation needs to be dealt with. These wood destroying pests are famous for their voracious appetites and require an experienced, professional touch to get rid of. Fortunately, our termite treatment in Glen Allen uses dependable, industry-best technology and methods to achieve fast and sustainable results so you can enjoy your home for years to come. 
With us on your side, you can expect:
A free inspection

of your home to identify termite activity and damage. 

Top-of-the-line technology,

including the revolutionary Sentricon Colony Elimination System.

Long-lasting relief

that you can count on to keep your home safe. 

The available Termite Defender and Termite Defender Plus packages and damage warranties. 

Guaranteed elimination

of the entire colony. 
Rodent Control in Glen Allen
If you've ever spent time in a home that's been overrun by mice and rats, you know the fear and anxiety that they bring with them. While the market is flooded with DIY products that make all sorts of promises, few if any of them can be relied on to work. Instead, get rodent control in Virginia from the local pros that will do the job right. The more time rats and mice have to get established, the harder they'll be to remove so give us a call today!
Prevent Rodent-Borne Disease
There are plenty of reasons why rodents have such a bad reputation, not the least of which is their ability to spread disease. Troublingly, mice and rats across Virginia are known to carry and spread illnesses like Hantavirus, Typhus, and even Bubonic Plague! Your loved ones' well-being is too important to entrust to just anybody, so look to RichPro Pest Management to safeguard those closest to you. 
Mosquito Control in Glen Allen
Virginia is a great state to call home, featuring proximity to the coast and to the mountains. Unfortunately, this variety in habitats and weather also appeals to mosquitos. More than just a nuisance, these tiny insects can carry several diseases. It may feel like mosquitos are just an inevitability, but you'd be surprised what you can accomplish with professional mosquito control.
If you are looking for fast and effective mosquito relief in Glen Allen, you can count on RichPro Pest Management to provide:
A free in-depth inspection of outdoor areas.
Treatments that disrupt the mosquito life cycle for lasting results.
Family and pet-safe treatments.
Same-day scheduling when you call before noon.
Need more than a one-time treatment? No problem! Our Mosquito Defender Plan offers seasonal treatments during the times of year that mosquitos love the most. 
Don't let mosquitos keep you indoors. Call RichPro and we'll use comprehensive treatments to help you get on track to rid of mosquitos. 
Bed Bug Control in Glen Allen
There are few things worse than waking up to itching bites due to the possibility of bed bugs crawling around your home. Bed bugs are extremely difficult to get rid of without professional help. You can contact the experts at RichPro Pest Management for effective treatments to get rid of bed bugs and make sure they stay gone so you and your family get a good night's rest.
Our bed bug treatment package in Glen Allen includes: 
An inspection of the property to see the extent of infestation and problem areas. 
An overall assessment of population size to come up with a customized plan for your home and family. 
Combined treatment methods including chemical and physical for bed bug removal.
Liquid residuals to mattresses and boxsprings to protect from infestation. 
Get Back to Sleeping Peacefully Without Bites
We've handled bed bug treatments for years and know the best way to get them out. Your family will be back to sleeping without a care or a bite after our expert bed bug exterminators do their jobs. We are even offering $100 off our bed bug treatment so you can get back to resting sooner! 
47+ Years of Local Experience
Since 1975, RichPro Pest Management has provided Virginia with outstanding, reliable, and affordable pest control services. We take immense pride in being a small, locally-owned and operated business with deep ties to our surrounding communities. Our more than four decades of local, hands-on experience have given us an exceptional knowledge of the Commonwealth's unique pest-related challenges and a wealth of knowledge on how to meet them. So when you need relief that you can rely on, look no further.